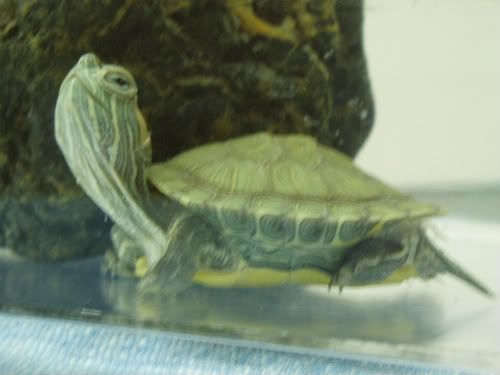 He gave me a fright! I was home early today, when i'm about to feed both lil green creature, banana usually will extend his neck and try to reach the bottle of food. But today was lil weired, i can't see Banana anywhere in the plastic pond. HE WAS MISSING!!!!
I freaked out, how could he possibly ran out? I placed their pond so high above the floor, he might fall and crack his shell. I flipped my room up side down and still can't find him, then i called Peter, he rushed back from office right away. Luckily Banana's big enough which forbid him to slit through the door, or else we'll be having a hard time looking for him.
After transforming my room into not my room, we found Banana hid behind a black plastic bag behind my coach. Thank God for that, but he looked frighten, I bet he will never want to escape again!