I might have a lot of friends,some are "hi,bye" friends,some are party friends,and some are close friends.There is another type of friends which i regard as buddy friends, they love you as you're part of their family.I'm lucky,i have quite a number of buddy friends,one of them is
hui
,we met on the 1st day of school (
MMU
), we were quite close since then,but got closer by day.
We had a wonderful time yesterday ,we went for dinner in F1 which we longing to go,went for movie later.Our intention to Sunway Piramid was "National Treasure" but ended up with "Abnormal Beauty"(we were late for the former).Anyhow,i assumed everyone knows that "Abnormal Beauty" was abnoramally not nice as the cinema was empty!hahahaa!!
As its already late at night,the shopping mall was people-less and extreamly quiet.Both of us were afraid but never wanted to admit..kekee!i started running when we were in the walkway going out the cinema,hui followed.It was so eery, ok!!the walkway was cold and quiet.As we reached outside the cinema which is the shopping mall,i saw baskin robin and jokingly told hui that i wanted to steal its display ice-cream cups,ironicaly,she thought i'm serious,hahahaa!!!
She was as crazy as i am,we waited for everyone to leave,looked at the right,left,front and back.
As soon as we can't spot anyone,we took the cups and hide underneath our jackets.We ran like a mad monkey,as we ran,we laughed and laughed until we almost tripped.We ran in the car park and laughed to ourselves in the car.I felt so stupid and jahat yet happy,i never expected that i'll do such stupid thing,i guess Baskin Robin won't sue us for only 2 display cups?hahaha!
that was the 1st part of out stupidity.
We went for shopping AGAIN in 1 utama (our favourite mall),ermm.....bought quite a lot of things until we both broke!On the way back in LDP,an uncle gave a hand signal to me,and both of us thought he's siao,and later he went to the other side of my car pointing at me car again,same thing,we thought he was up to something and scolding him siao again without realising that he's trying to tell me that i didn't on my head lightS!!!hahaa..i was so embarassed!
we were laughing again for our stupidity,haha!
No doubt,i'm very close with hui,we walked to campus everyday last time back to alpha,and now we are staying together and sleeping on the same bed..haha!!a double-decker la!WE have the same taste of fashion,interests and the most important things is,we always have similar point of view towards something.There are lots of things that i don't have to tell so details and yet she understands me like she's me.WE can talk a lot,we can play like nobody business.Thats one thing i love the most,we always bully LI wei and Alicia(our housemates)together!!hahahahaa!!I guess they are not as corrupted,playful and evil hearted as both of us do,hahaha!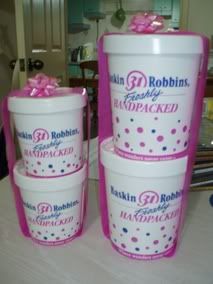 here is the pic of our baskin robin's ice-cream cups.kekekee!!!don't call the police plz....:)